Parents: Just a reminder that Casey Westfield schools are serving free breakfast and lunch to any CW student for the month of June, Monday through Friday at Monroe Elementary. Meals must be eaten in the cafeteria as there is no curbside pickup or delivery. Monroe Elementary - cafeteria doors (Door N) M-F, June 1 - 30 Breakfast served 8:00 am - 9:00 am Lunch served 11:30 am- 12:30 pm

School's out for summer! Be safe! *** C-W Schools ***

We hope to see everyone there!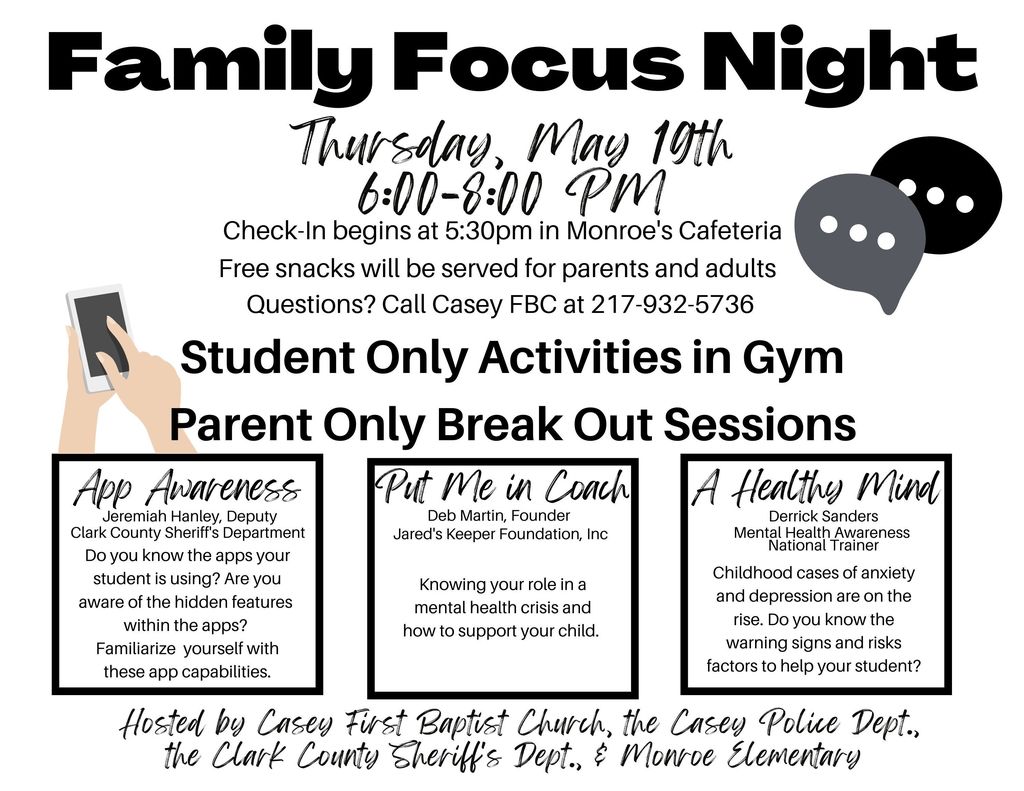 Due to the rescheduling of today's LEIC track meet, we will move the Junior High Awards night to Tuesday, May 10th, at 6 pm. We are sorry for the late notice of this announcement.
Next week is Fine Arts Dress-Up Week at Monroe, and our Night at the Art Museum is on Tuesday!!! We are so excited about this opportunity to show off our young artists! A paper copy of this information will be sent home in backpacks today. Please mark your calendars!

Casey-Westfield Schools will dismiss at 2pm today and will resume on Tuesday, April 19th. Enjoy the break!

Monroe Parents: Just a quick reminder that there will be no ASC and Homework Help on Wed. April 13, 2022 due to 2pm dismissal for the Easter Holiday. Please plan according on that day. Please let your child's teacher know what their dismissal plan should be in writing. Thank you for all that you do!

The Casey-Westfield School District is currently COVID free and has had multiple weeks with no COVID cases among staff or students. Future notifications will only be made if deemed necessary.

The JH Track meet at Robinson today has been canceled.

The Casey-Westfield District is currently COVID and quarantine free among all staff and students.

The Casey-Westfield District is currently COVID and quarantine free among all staff and students.

COVID numbers for Casey-Westfield Schools: Staff - none, Monroe - 1 positive, JH - none, HS - none. All future weekly COVID updates will be published on our website. Please check the live feed at the web address below if you are still interested in these updates.
https://www.caseywestfield.org/live-feed

THE DEADLINE IS QUICKLLY APPROACHING! This is a reminder that the 5Essentials 2022 Illinois Parent Survey is open. The survey window will close on March 11, 2022, so please take time to complete it soon. We appreciate your support and time. In order for us to see your responses, we have to achieve 20% parent participation in the survey. We kindly ask you please take a few minutes to complete the survey and help us out. The link for parents to take the survey:
http://survey.5-essentials.org/illinois/survey/parent/
Thank you again for helping us always be better for every student and family!

COVID policy change for Casey-Westfield Schools: CDC guidance will now allow for optional masking on buses, effective immediately. Masks have been recommended in school buildings for several days and will now also be recommended on buses, instead of required. COVID numbers as of 2-24-22: Staff - none, Monroe - none, JH - none, HS - none.

Happy Birthday Dr. Seuss! Help us celebrate his birthday by joining in the fun!!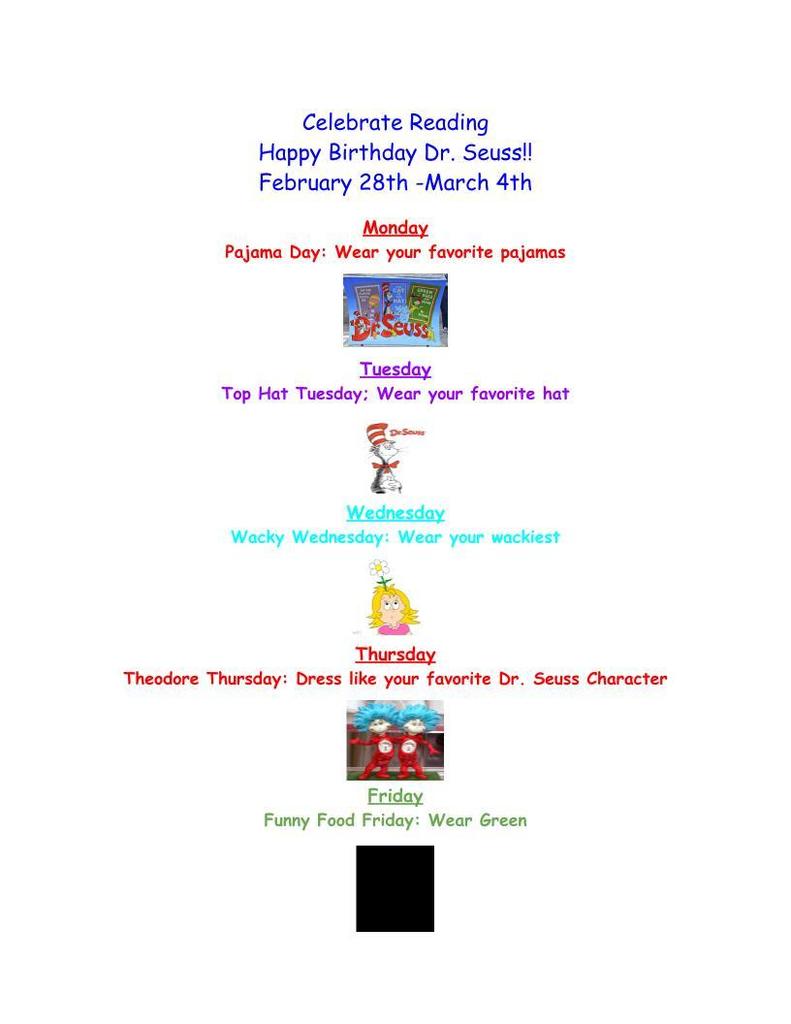 Casey-Westfield Schools will not be in session on Friday, February 18th due to poor road conditions. There will also be no school Monday, February 21st for President's Day.

Casey-Westfield Schools will dismiss at the normal time today. Please be cautious on the roadways this afternoon/evening. Also, there is no school on Monday, February 21st in observance of President's Day. COVID Numbers: Staff- none, Monroe - 1 positive, JH - none, HS - none

Monroe Parents: REMINDER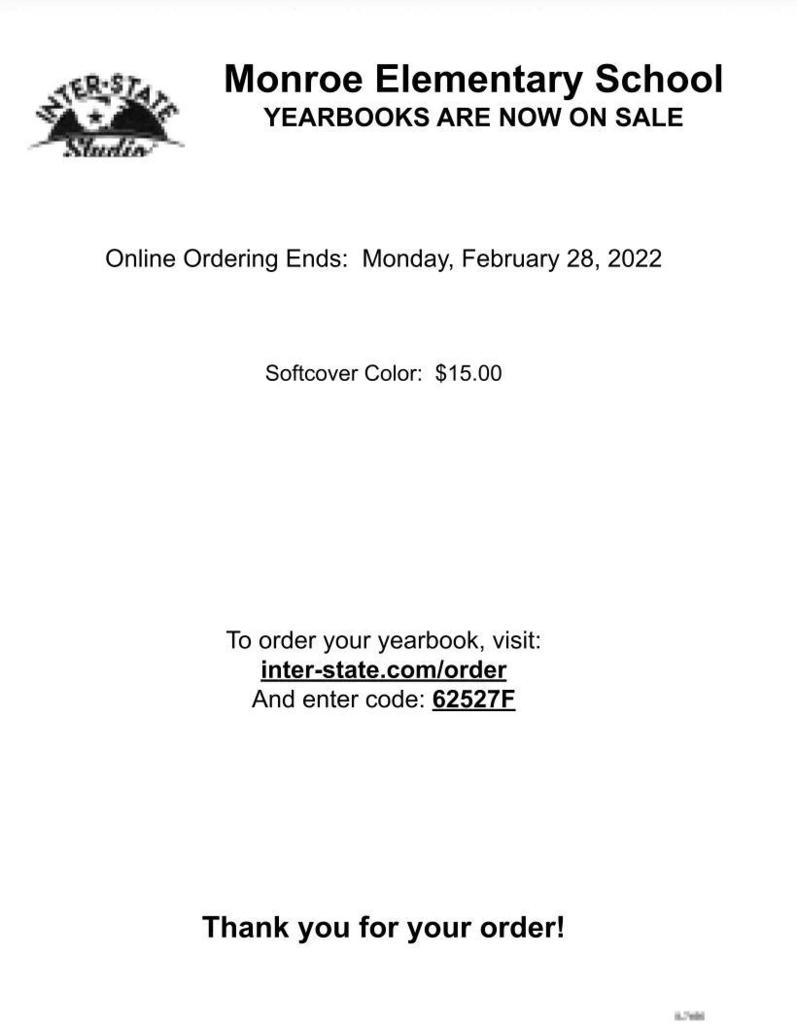 HELP WANTED: Part-time recess and cafeteria aide wanted. Monroe Elementary in Casey, IL has a two-hour aide position available. Duties include escorting and supervising K-6th students during lunch and recess from 11 am - 1 pm on student attendance days. Starting pay is $13.00/hour. Applicants must have a high school diploma, with preference given to applicants with additional education. Interested applicants should send a letter of application including current phone number to Linda Campbell at
linda.campbell@caseywestifeld.org
or Monroe Elementary, 301 E. Monroe, Casey, IL 62420, or by completing a support staff application which is available at Monroe or the Unit Office.

Monroe Elementary School has 2 openings for K-6 Special Education Teacher for the 2022-23 school year. Applicants must hold a Illinois Professional Educator License with LBS1. Salary/Benefits as per PN agreement. Qualified applicants please send a letter of application, resume, and copy of license, and IEIN to
linda.campbell@caseywestfield.org
. Application deadline is Mar 31, 2022.