Jr./Sr. High School picture retakes are coming up. Save the Date!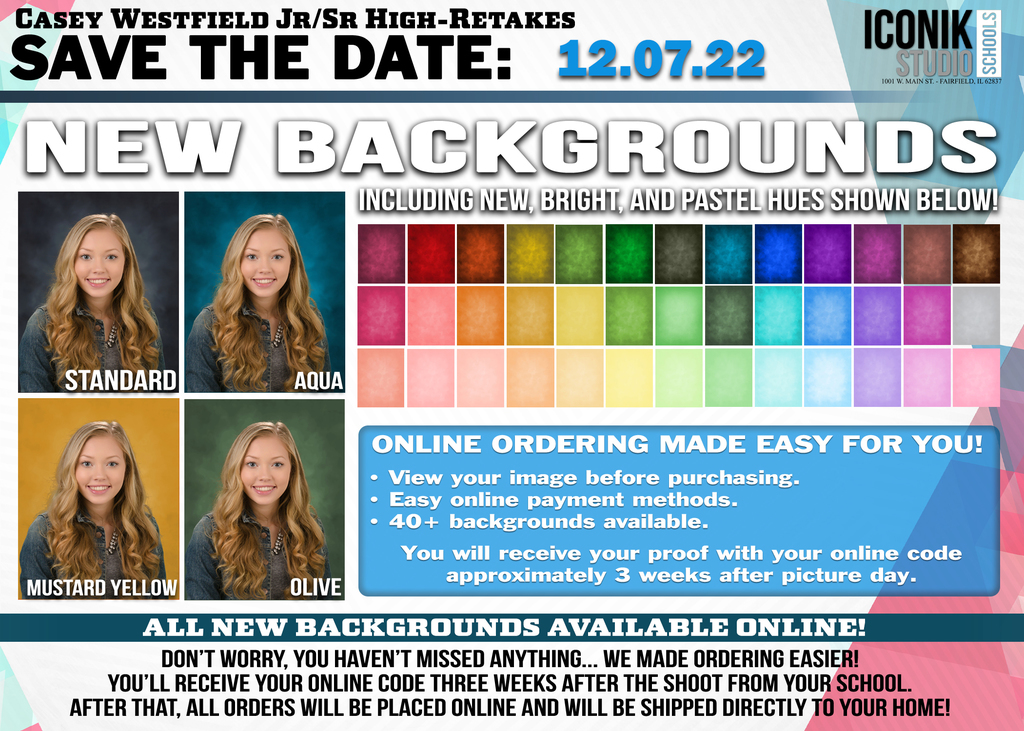 HELP WANTED: Monroe Elementary School has the following vacancy: Classroom aide Applicants must have a high school diploma. Preference will be given to applicants with two years of post-secondary study, Associates Degree, or have passed the Paraprofessional Test. This position requires physical mobility and the ability to lift up to 40 pounds. Duties include assisting student(s) with basic and educational needs as directed by teachers. Hours are 7:45 am - 3:15 pm on student attendance days beginning on January 3, 2023. The starting pay is $ 13.46/hour. Interested applicants should send a letter of application including current phone number to Linda H. Campbell at
linda.campbell@caseywestfield.org
or complete an application and return to Monroe Elementary, 301 E. Monroe, Casey, IL 62420. Applications available at CW Unit office or Monroe Elementary School.

Reminder: Today is a 2pm dismissal. We are back in session November 28th. Happy Thanksgiving from C-W Schools!
Noodles have arrived! Staff worked on sorting and distributing today. If students were able to haul the noodle order home, we let them. If your child(ren) had a big order, we will contact you Monday for pick-up arrangements. Thank you for your patience!
Recently, Casey-Westfield High School Business Teacher Tori Hale was recognized as the "2022 Outstanding Secondary Educator of the Year" by the Illinois Business Education Association. Colleagues in the business education community nominate a deserving candidate for this award, and the winner is selected after consideration of a number of different criteria. Mrs. Hale was recognized for her consistent and continuous effort to mentor new and pre-service educators throughout the state and her innovative activities, projects, and strategies that she incorporates into her lessons. Congratulations, Mrs. Hale!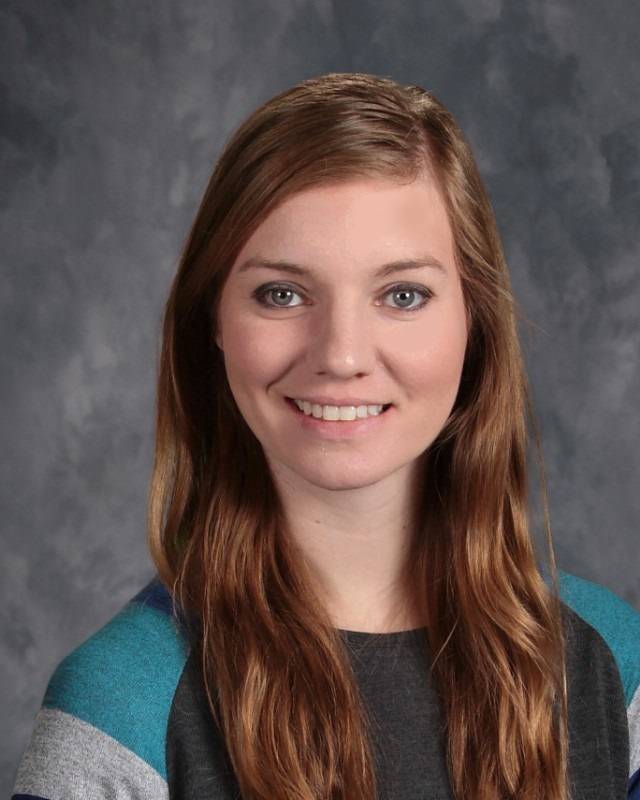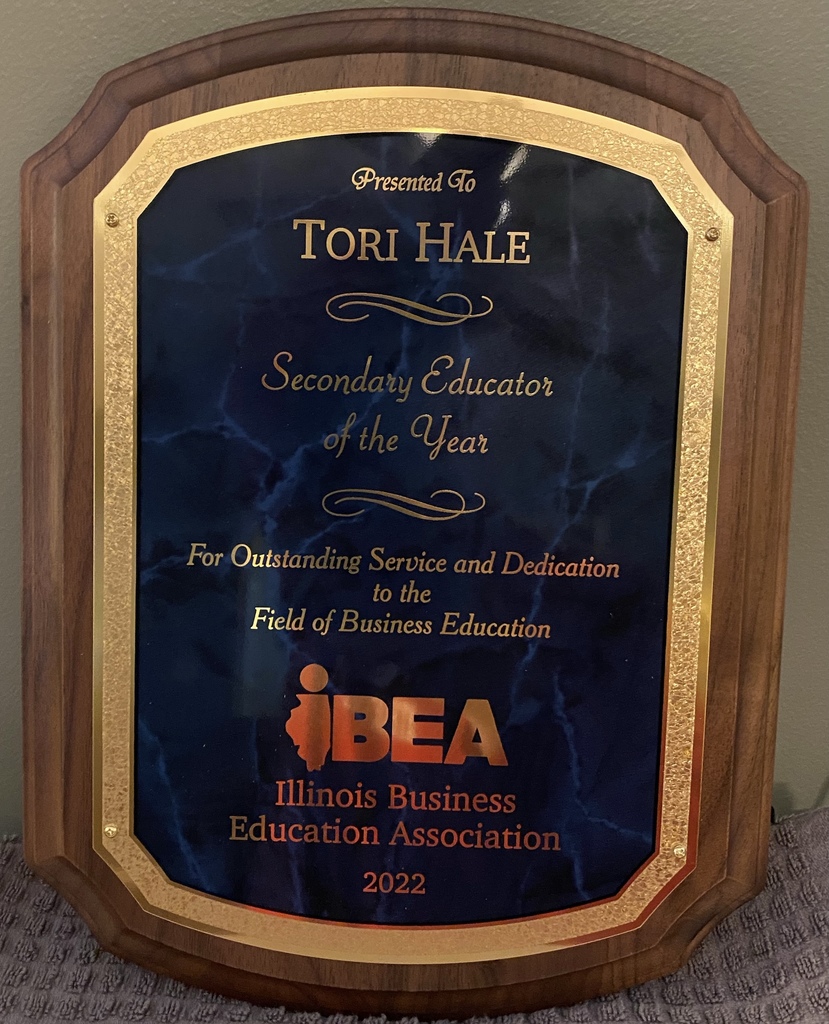 The last day to bring in books for the Book Swap is tomorrow, Wednesday, November 16th. Students will have the opportunity to "swap" on Thursday.
The 5K Turkey Trot is only 10 days away! This is the final fundraiser for the Class of 2024 for prom this year, plus it is a great way to burn off some calories before Thanksgiving dinner! It is $20 to preregister and $30 to sign up on the day of the event. Thank you for supporting the CW Class of 2024! You can sign up at
https://runsignup.com/Race/IL/Casey/VirtualCaseyIL5KTurkeyTrotCWClassof2024
! If you are not able to physically participate there is an option to donate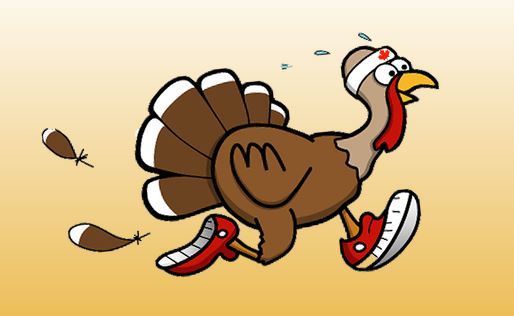 Students are getting excited about the upcoming book swap! Please read the flyer for details. The last day to bring in books is Wednesday, November 16th.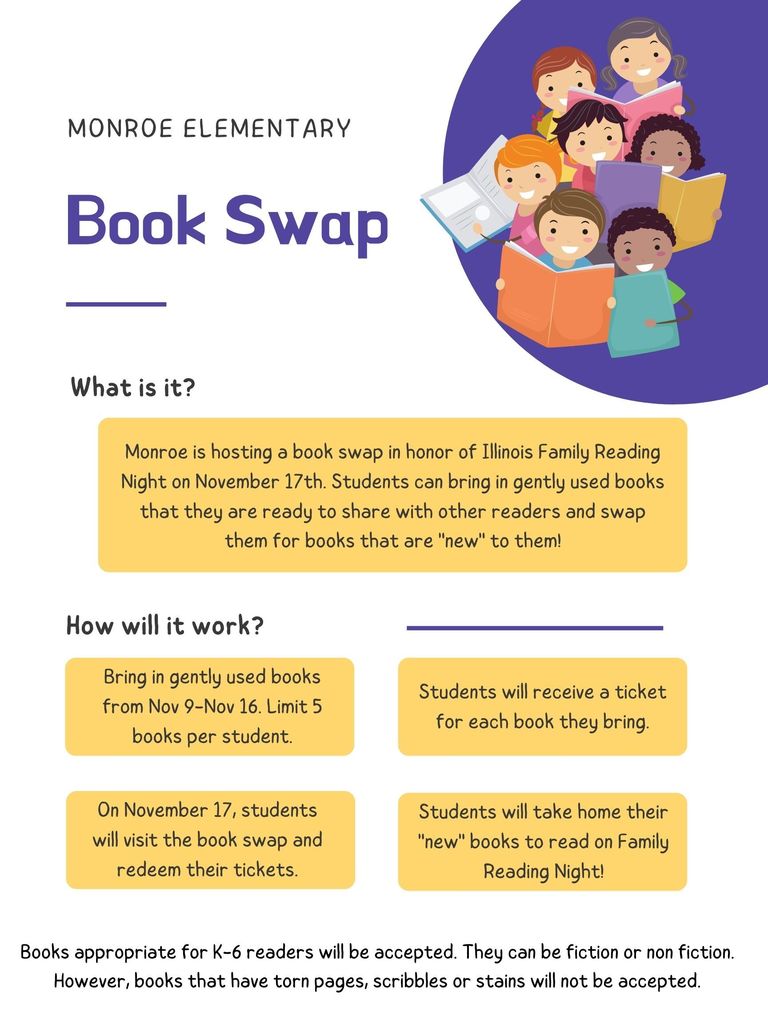 Casey-Westfield CUSD has an anticipated immediate opening as head of maintenance. The pay rate is a minimum of $20 per hour. Candidates must have technical expertise, along with interpersonal skills. Interested applicants should immediately send a letter of interest, resume, and references to Dr. Jon Julius, superintendent at
jon.julius@caseywestfield.org
. This position will be filled as soon as possible.

It is a season to be thankful. There is no school tomorrow due to Election Day. We should be thankful we have the right to vote! We will be in attendance this Friday on Veterans Day. Many thanks to all of our veterans for their service to our country and the freedoms we enjoy every day! -CW Schools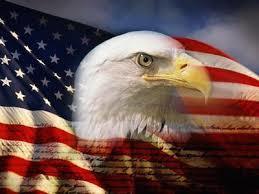 REMINDER! We will be hosting the Digital Safety Presentation tonight at 6pm in CW Arts Hall. This is a free event that will provide information about how to keep our students safe when online. With social media becoming more and more relevant in our students' lives, knowing how to keep them safe when communicating online is top priority. Everyone is encouraged to attend and take advantage of this opportunity! We hope to see you all there!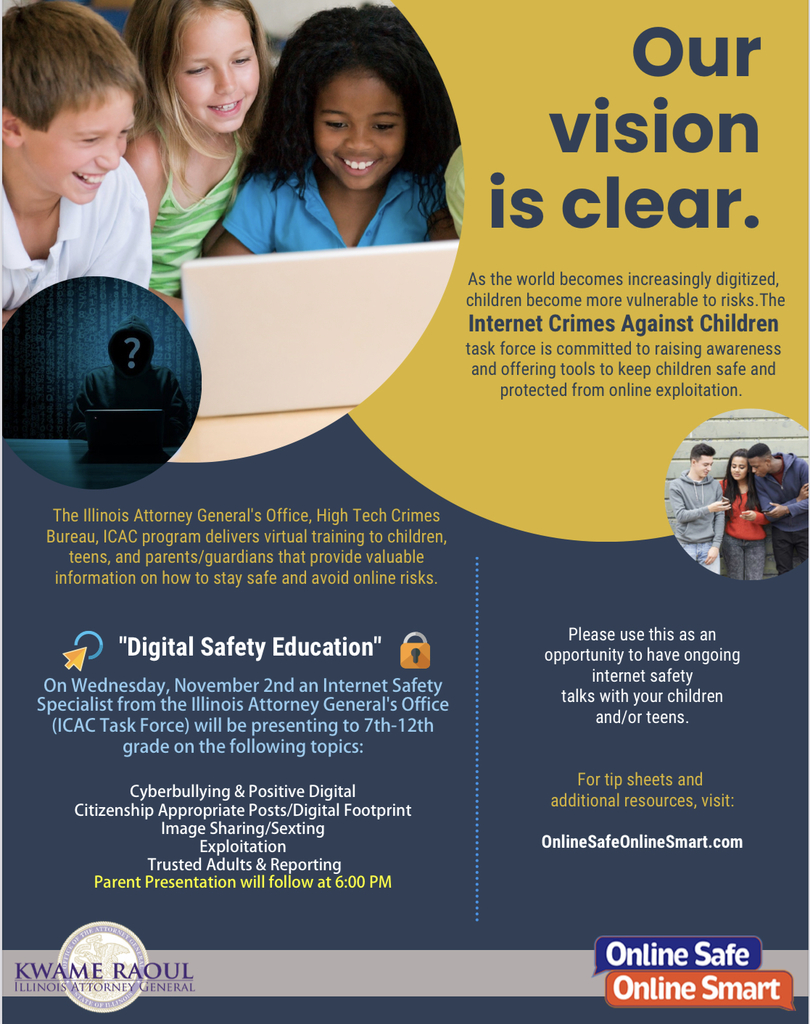 The city will be working on NE 4th street between Roosevelt and the high school starting Wednesday and through Friday this week. Please make arrangements to avoid this area if at all possible. Thank you!      C-W Schools    
Reminder: Tomorrow is Costume Preview Day!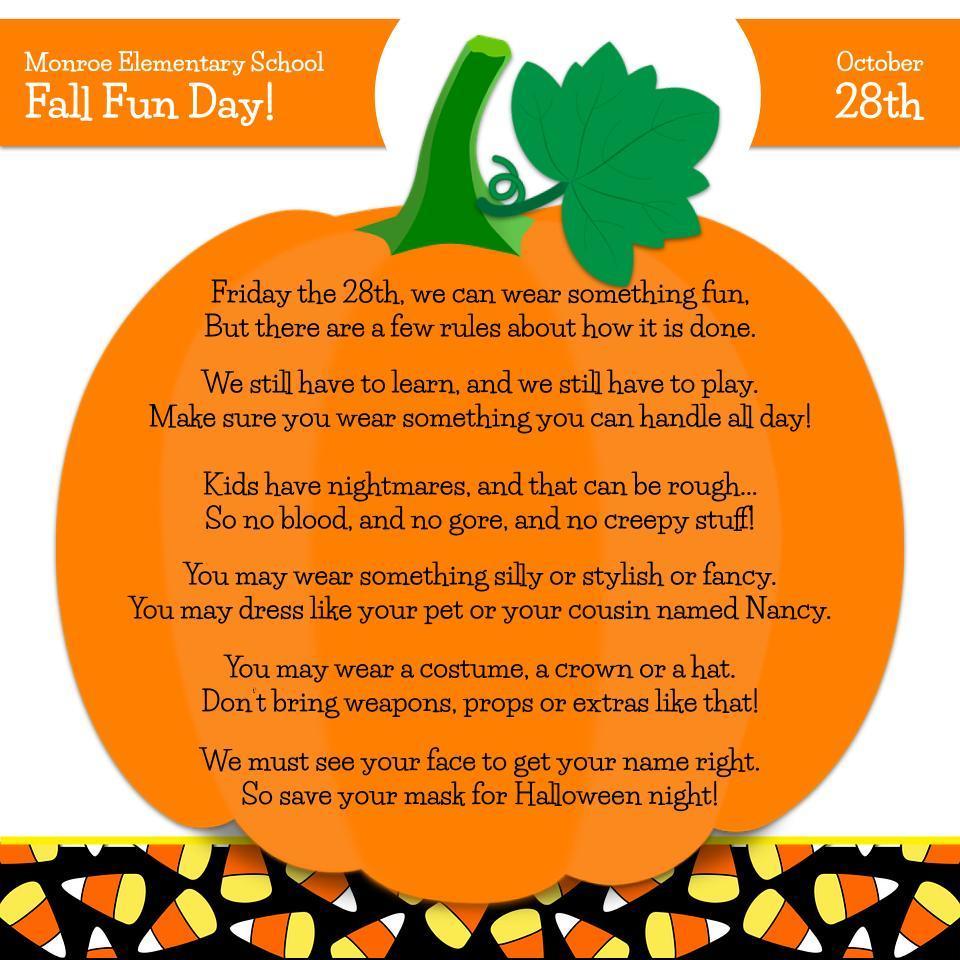 SAVE THE DATE! Next Wednesday, November 2nd at 6pm in C-W Arts Hall parents are encouraged to attend a free presentation by the Internet Crimes Against Children Task Force. A representative will be sharing important information regarding how to stay safe and avoid online risks! Please attend this presentation and use it as an opportunity to have ongoing internet safety talks with your children.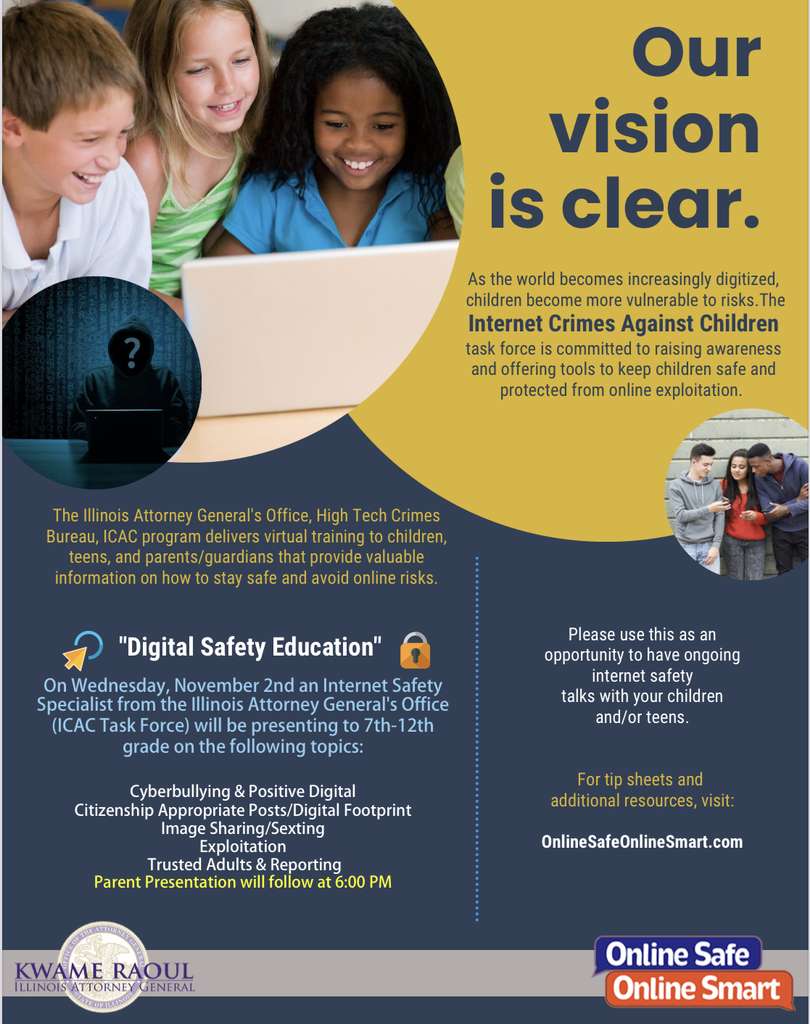 Check your child's backpack this week for more information! This fundraiser has been a big success in the past. The funds raised will provide our students with more academic enriched opportunities. 🍫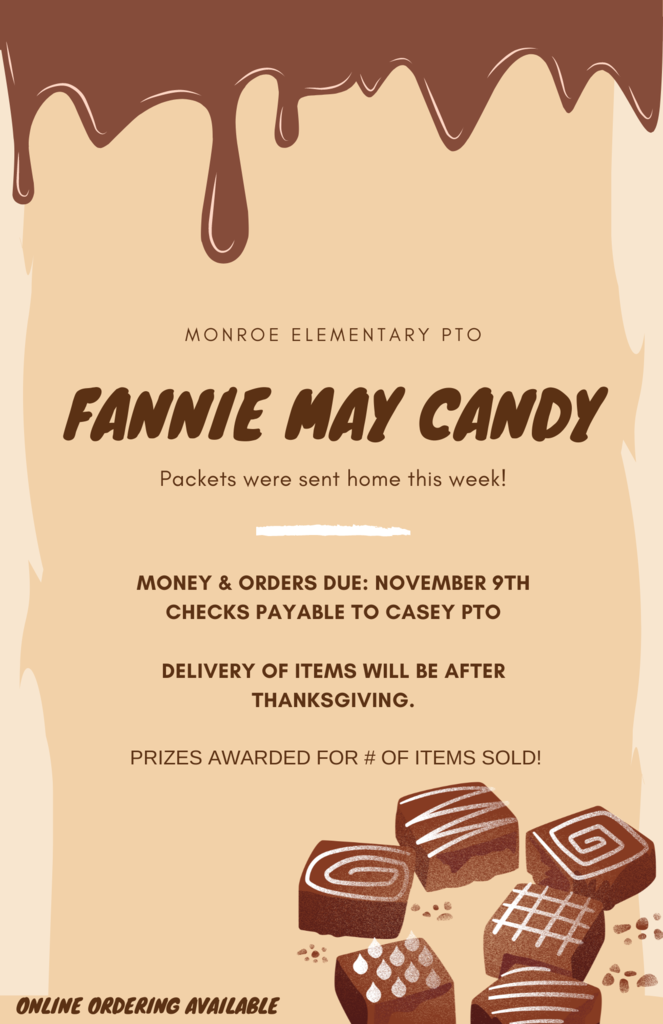 Reminder: No school tomorrow due to parent/teacher conferences concluding this evening. Enjoy the beautiful three day weekend!

Dear Parents and Families: Get Ready! The Scholastic Book Fair is coming our way (YAY!). Choosing their own books empowers kids and inspires them to become Bolder, Prouder, and Stronger Readers. AND—as always—every book they buy earns rewards for our school. Here's what you need to know about the Fair, which will take place from October 17th – 20th at Monroe Elementary School Room 85. It will also be open during Parent Teacher Conferences on Tuesday and Thursday evenings. This year, say goodbye to cash and hello to eWallet—your child's digital payment account. Before the Fair, set up eWallet for worry-free, cash-free purchases. If you can't make it to the Fair, then shop at our school's Online Book Fair. All orders ship directly to your home, and shipping is free for book orders over $25. Your online orders will also benefit our school. Visit our Book Fair homepage to learn more and get started with eWallet and online shopping:
https://bookfairs.scholastic.com/bf/monroeelementaryschool28
Information will also be available on the Monroe Elementary School website:
https://www.caseywestfield.org/o/monroe
The countdown to more Bookjoy is on! Catch you at the Fair! Happy reading, Linda Campbell Principal Monroe Elementary School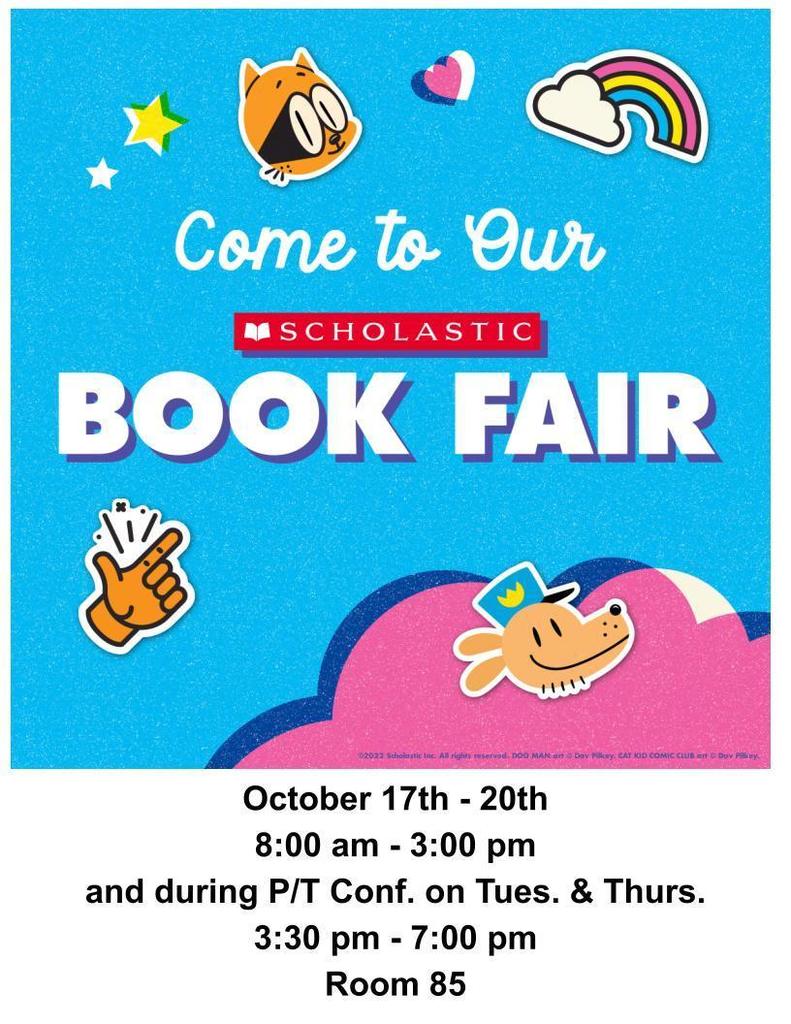 Oakland Noodle Fundraiser orders and money are due back Monday, October 17th. One more weekend left!
Good morning! Students have a few more days to sell some noodles. We just announced that the class who raises the most $💰$ in noodle sales will earn a class pizza party🍕 ! Thank you again for your support of this fundraiser.

Reminder: No school Friday due to a teacher's institute day and no school Monday for the Columbus Day holiday. Have a great 4 day weekend!